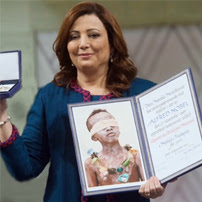 Madam Ouided Bouchamaoui, Noble Peace Prize co-laureate 2015 from Tunisia visited SSSIHMS, Whitefield on 17th November 2018 enroute to Puttaparthi to participate in the ladies day celebrations

. 
She was amazed at the work being done so silently at such a magnitude by the Hospital. She toured the hospital seeing the fantastic work done with style to the poorest of the poor patients. This is her first visit to the Hospital. 
She wrote the following lines in the visitors book.
"I am so moved and impressed!

Really it's a good job!

Thanks to all of you! Of course the role of Baba is fantastic!

I am so happy to be here. I hope I 'll come come soon again!

All the best! God Bless you!

Ouided Bouchamaoui from Tunisia

Nobel Peace Prize Laureate 2015
Ouided Bouchamaoui is the co-laureate of the Nobel Peace Prize 2015. Elected President of the Tunisian Confederacy of Industry, Trade and Handicrafts (UTICA) in May 2011, first woman elected to this position in the Arab World, and member of the National Dialogue Quartet, she played a historic and legendary role in helping her country navigate through a great time of crisis during the Arab spring and move Tunisia to a more transparent and collaborative society with democratic processes, constitutional framework and transparent elections. In 2013, under her presidency UTICA along with the Tunisian General Union of Labour (UGTT) launched the initiative of the National Dialogue. They were joined by the League of Human Rights and the Tunisian Order of Lawyers, forming 'The Quartet'. The Quartet initiated negotiations with all parties involved in deep political crisis in Tunisia, resulting in a peaceable solution. For this successful endeavor they were awarded the Nobel Peace Prize in 2015.
Ms. Bouchamaoui is also Member of the Oslo Business for Peace Award Committee since January 2016. Ms. Bouchamaoui describes the open secret of her success as the ability to build win-win partnerships and relationships even among opponents. She is an exemplar of the creative and constructive force of women's leadership to nurture dialogue, bring harmony and build peace. As businesswoman, Ms. Ouided Bouchamaoui is a shareholder and an administrator of the Hedi Bouchamaoui Group, a family owned business spanning more than a hundred years. Mrs. Ouided Bouchamaoui declined thrice the offer to become Prime Minister, wishing to retain her independence, and to work as a mediator to achieve social stability and help foster economic development in Tunisia. In January 2015, the Tunisian President, Mr. Beji Caid Essebsi made her Grand Officer of the Order of the Republic, and His Majesty, King Carl XVI Gustaf of Sweden, decorated her with the Royal Order of the Polar Star in November 2015. She also received in December 2015, the "Legion d'Honneur" from the French President, Mr. François Hollande. At the Annual Women Economic Forum (WEF) 2018 in India, she will be felicitated with the highest WEF Award of "Legendary Peace Leaders of the Decade."