Department of Orthopedics
The department provides state-of-the-art advanced medical and surgical treatment totally free of charge, irrespective of race, religion, caste, creed, gender, nationality or financial status.
The facility is equipped with most modern high technology equipment and is staffed by well qualified, experienced consultants.
Facilities and services
Outpatient facility
About 30-40 patients are provided OPD consultations on daily basis.
Physiotherapy unit
A well-equipped physiotherapy section staffed by three full-time well-trained physiotherapists provides physiotherapy services at the department.
Inpatient facility
The department shares a 48 bedded ward with other multispecialty departments.
Operating facility
The department does following surgeries on regular basis:
Total joint replacements
Arthroscopic surgeries of knee, shoulder, ankle, elbow, hip and wrist
Spine
Complex deformity corrections
Trauma including pelvic and acetabular
Neglected trauma
Benign bone tumors and cysts
Faculty

Dr. D.C. Sundaresh HOD, Senior consultant,
MBBS, Diploma and MS Orthopedics
Area of Expertise: Arthroscopy and Arthroplasty
Area of Interest: Imaging Processing Based Research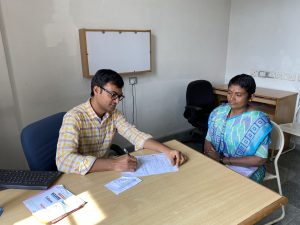 Dr. N. Mahesh Kumar, Consultant,
MBBS, DNB Ortho, Fellowship in Arthroscopy and Sports Medicine
Area of Expertise: Trauma, Arthroscopy, Arthroplasty
Area of Interest: knee, Shoulder Arthroscopy
Hip and Knee Joint arthroplasty
Visiting faculty
Dr. Manjunath, Professor and Sr. Consultant
Dr. Mahesh, Sr. Consultant
Dr. Ranganath, Sr. Consultant
Dr. Gowrishankar, Sr. Consultant
Dr. Lingaraj, Sr. Consultant
Dr. Darshan Jain Sr. Consultant