Department of Ophthalmology
Overview
The department was set up with the vision to make available the finest in eye care in the world to its patients totally free of cost. The department has a modern operation theatre, an advanced laser unit and other various other state of the art equipment for delivering quality patient care.
Patient Care
For inpatients, medicines, nursing care and diet is given free of cost during their stay. Cataract surgeries are done on day care basis and for Retinal surgeries, patients are admitted one day prior to and discharged on the day after surgery after being explained post-operative care and medications.
 Investigational facilities
Anterior segment OCT
Humphrey visual field analyzer
Optical coherence tomography
Fundus photography
Fundus fluorescence angiography
B Scan ultrasonography
Scope of Work:
ROUTINE REFRACTIVE ERRORS
Screening and examination of refractive errors is performed and suitable glasses are prescribed.
RETINA
Medical retina : Screening , laser treatment , intravitreal injections for diabetic retinopathy/retinal vein occlusions/ age related macular degeneration
Surgical retina :
Retinal detachment surgery
Diabetic vitrectomies
Macular surgeries (ERM, Macular hole, VMT)
Intraocular foreign body removal
GLAUCOMA
Diagnosis, medical / surgical management of primary and secondary glaucomas.
Facilities offered are:
Humphrey visual field testing
Laser peripheral iridotomy
Trabeculectomy
Combined cataract and trabeculectomy surgery
CATARACTS
Senile cataract
Traumatic cataract
Complicated cataract
Subluxated and dislocated lens
Pediatric cataract
Secondary intraocular lens implantation
ANTERIOR SEGMENT
Diagnosis and management of:
Infections and inflammatory conditions of conjunctiva and cornea
Conjunctival / corneal trauma
NEURO-OPHTHALMOLOGY
Complete Neuroimaging facilities like CT and MRI scanning are available. Retinal nerve fiber layer analysis and Ganglion cell layer analysis are done.
PAEDIATRIC OPHTHALMOLOGY AND STRABISMUS
Congenital cataract surgery
Strabismus evaluation and management(surgical and non-surgical)
 Faculty
Full Time: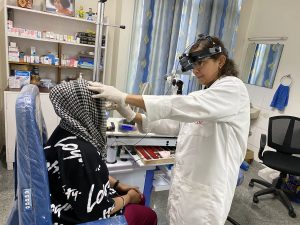 Dr. Kavitha Rao, Sr. Consultant and HOD. Completed DNB Ophthalmology in 2000 at SSSIHMS, PG and subsequently did Retinal fellowship at Retina Institute of Karnataka. Consultant at RIK for 20 years before shifting to SSSIHMS, Whitefield on full time basis.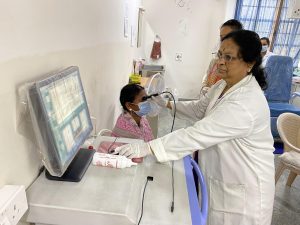 Dr. Shanthala, Sr. Ophthalmologist
Dr. Archana Preethi, Consultant
Part Time- Honorary
Dr. Hemath Murthi, Sr. Ophthalmologist
Dr. Prasad, Sr. Ophthalmologist
Dr. Balkiran