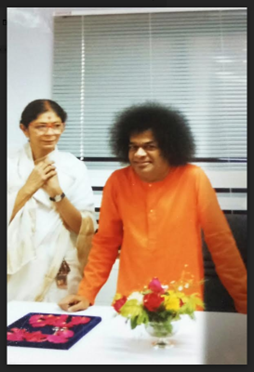 Ms. Dolly Chavda merged into Divine Lotus Feet
Sathya Sai Avatar brings us memories of many of His Instruments who were part of His mission on this earth. One such instrument who was associated with Swami's Healthcare mission for more than four decades is Ms. Dolly Chavda.
Ms.Dolly Chavda merged at Bhagawan's lotus feet on 10th Nov 2022, thus bring to close a grand saga of selfless service.
Ms.Dolly did her education in Nursing & Midwifery from B.D.P.Parsee General Hospital, Bombay from 1964-67. She worked as staff nurse at The Bomanji Dinshaw Petit Parsee General Hospital, Bombay for two years between 1968-1970 before flying to United States to continue her professional growth.
A stroke of luck made her visit to Brindavan in the mid 1970's to have darshan of Bhagawan which changed her entire life.
She joined Sri Sathya Sai General Hospital on 26th Oct 1978. She led a simple, inspiring life of selfless service for more than four decades.
Bhagawan during his visit to SSSGH on the occasion of silver jubilee celebration of General Hospital in 2001 specifically appreciated the work rendered by Ms.Dolly in His Divine discourse
After serving the Lord, after completing 79 years of earthly sojourn merged in the ocean of Love, like a drop of water into the sea.
A condolence meet is convened on 12th Nov 2022 at 11 am in Dhanvantri Hall, SSSIHMS, Whitefield.
Let us all pray to Swami to give her 'sadgati' and let us imbibe the essence of selfless service from her life and serve in Health care mission with all the Zeal and inspiration