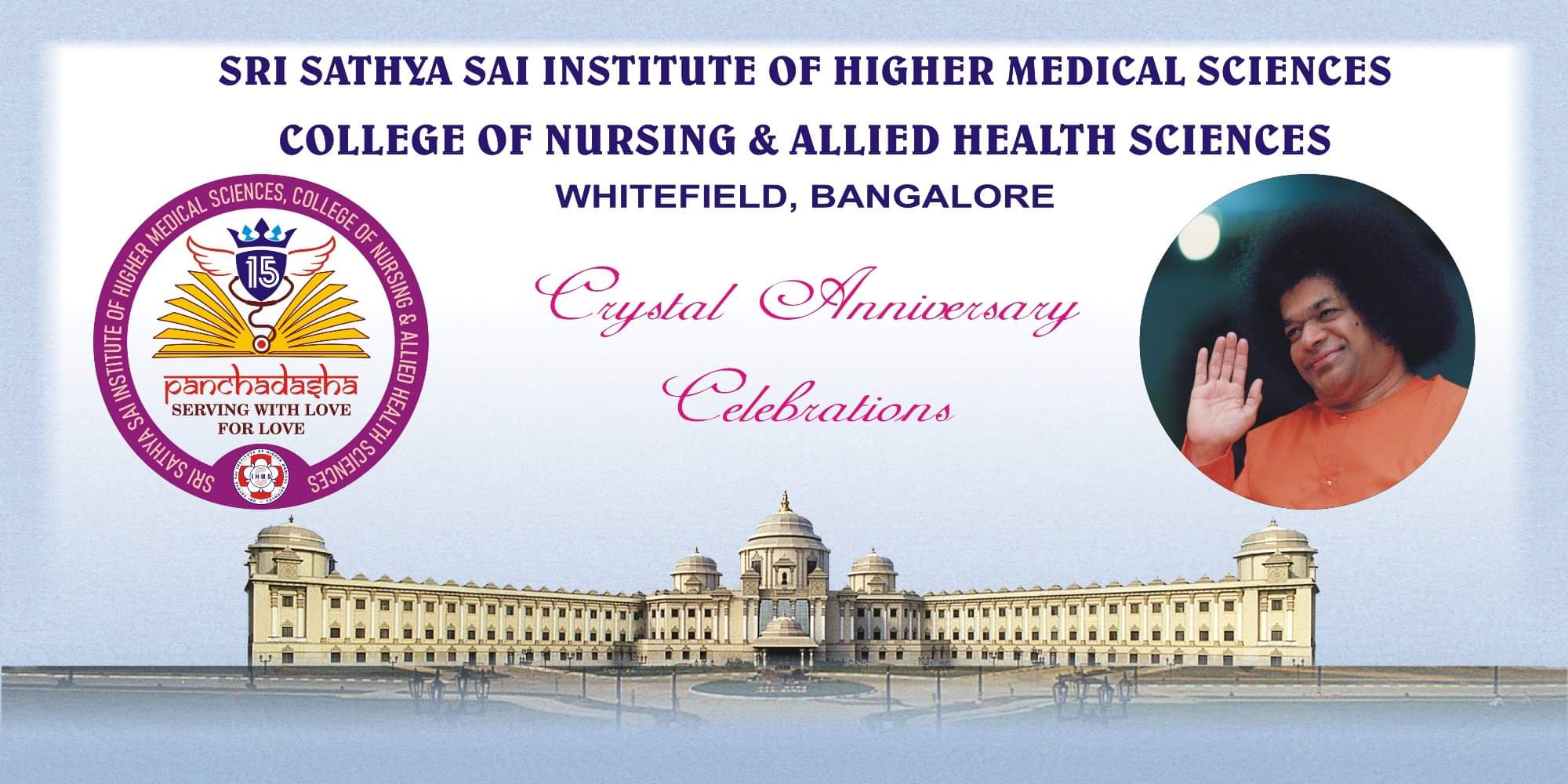 Event No: 1        
Name: Logo & Banner Inauguration.                         
Date:  06.11.2022.
Name of the Coordinator: Mrs. R. Udaya Devi & Mrs. Anju Thomas
With the divine grace of our beloved Bhagwan, we are stepping into 15 years of anniversary celebration of Sri Sathya Sai Institute of Higher Medical Sciences- College of Nursing & Allied Health Sciences.  Faculty and Students were motivated to participate in creation of logo for crystal anniversary. Logo with themes of 16 students were scrutinised out of which 2 logos were selected and created the crystal anniversary logo. On 6th November the banner with the Logo was offered to Swami for blessings. The theme of the logo depicts that Nursing and Allied health science students arae angels. It symbolizes focus on our goal, making positive life change, welcoming change and recognizing our full potential using our inner wisdom". During this Panchadasha year, let us all bring positive changes by working together for the betterment of humanity and world.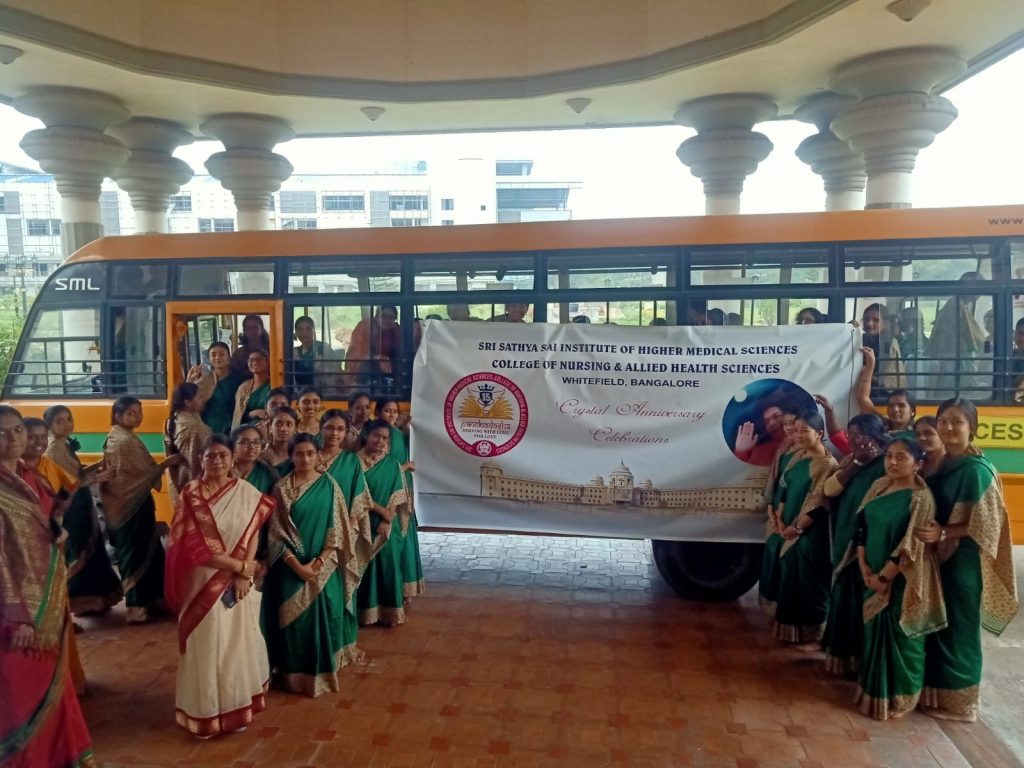 Event No: 2 
Name : Health Education on Environmental Sanitation and Recreational activity at Sai Ashrayadham-Home for the Orphans and Destitute at Kadugodi, Bengaluru.
Date: 06.11.2022.
Name of the Coordinator: Mrs. Niveditha.K.N
The B.Sc Nursing and Allied Health Sciences second year students offered their selfless service to the Orphans and destitute children at 'Sai Ashrayadham', Kadugodi with the program entitled 'Sai Sharanam: Look for God and Serve with Love'. These young minds carried the rich glory and legacy of our Divine Master, the event was packed with two activities-one focussing on Health Education-Topic: Environmental Sanitation with the Theme-"Be the part of solution, not the part of pollution".  Another recreational activity- "pass on the ball", a small quiz based on our Swami and human values was also conducted. The main objective was to create awareness and maintain conditions in environment that will promote health, prevent disease and maintain quality of life in a community. The entire activities were interesting and happen to see that those children grabbed our hearts with their joy and happiness.
Event No: 3       
Name: Medical Camp at Brindavan Ashram
Date: 06.11.2022.
Name of the Coordinator: Mrs. Bhavani G
The main objective of the Medical camp was to serve the people and assist the health care professionals focused on primary prevention with high quality of standards of care. B.Sc Nursing and Allied Health Sciences 10 students participated in Medical camp. Students were oriented about each department in medical camp including Ayurveda, Sai Vibrionics, Cardiology, Neurology, Orthopaedics, General Medicine, Gynaecology, Hearing test, Diabetics, Expired medicines, skin, eye, homeopathy, ENT, Dental, Pharmacy and store room. Students were posted in diabetes section and provided the needed care.
Event No: 4       
Name: Language Board at SSSIHMS, Whitefield, Bengaluru
Date: 10.11.2022.
Name of the Coordinator: Ms. Vanitha. S
The main objective of the language board was to learn various languages such as English, Hindi, Kannada, Telugu, Bengali, Odia, Tamil, Malayalam and Nepali to improve the communication skills among patients, staffs and students. At first started with the sentence of "where to go" and the same sentence has translated in all other languages.